frequently asked questions...
Why should I call you vs. another organizer?
Because I have a lot to offer:
NAPO (National Organization of Productivity & Organizing Professionals) member since 2014
NAPOCares Committee Chair (2017-2018)
NAPOCares Committee Member (2016-2017)
NAPO Virtual Chapter Board of Directors (2016- present); member since 2016
Certified NAPO Workplace Productivity Specialist
Certified NAPO Residential Organizing Specialist
fully committed to the NAPO Code of Ethics

At Your Fingertips Organizing is insured

30+ years of professional experience (Productivity/Organizing, Human Resources/Staffing, Social Work)

Bachelors & Masters degrees, University of MA

Passionate about teaching others to be eco-friendly/green; former Master Recycler
lifelong learner who looks for every opportunity to learn more in order to benefit my clients
i value helping others maximize their strengths and empowering them without judgement. my goal is to bring my clients focus, motivation and success.

as the primary caregiver for a parent with

Alzheimer's, i have a passion working with elders, respecting their rights and their individual challenges

i can relate to you more than you know. while a very big part of me requires/desires organization, another part of me HATED to part with items that i thought I might use again someday or that had sentimental value. THAT'S why you should call me... because I've been there, I understand the emotions you are feeling and can help you deal with them.

together we'll come up with creative ways to retain emotional items, yet not take up valuable space in your home/office.



Is this going to cost me a lot of money?

this can cost as much, or as little, as you want to spend. In addition to being obsessive compulsive about things being in order, I am equally neurotic about being frugal. this means I don't like to spend a lot of money on organization methods, containers etc. if I don't have to. i'd be thrilled to apply the same frugalness to you. or if you prefer to buy new systems, that's fine as well. just let me know your budget and we'll make it work!
I'm afraid you'll make me get rid of my precious belongings.. is that true?
i won't make you get rid of anything you don't want to. you'll make the decisions about your possessions; not me. i'm just here to help you.


I don't know what to do with the stuff I decide to get rid of... can you help?
i will provide you with lots of suggestion/options/support to reduce your stuff.. (i.e. yard sale, selling online, consignment, gifting, donating, etc.)


What geographic areas do you service?
i service Greater Myrtle Beach, SC and "virtually" anywhere via Skype, FaceTime, etc.


I'm so overwhelmed I don't even know where to begin. What should I do first?
that's easy... just call me and we'll figure it out together!
Powered by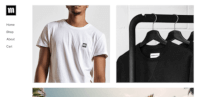 Create your own unique website with customizable templates.